10th April
OMG

Omg

Omg

Omg

Yes

i just love this set so much he's the cutest
9th April
Anonymous
Have you ever had a sexual experience with anyone in IMT (not including Tobie))
Yup all of them. We actually don't sew any costumes.

Every time we get together we have a giant orgy and all the costumes are the babies we conceive from the orgy. 
18th March
Wait…what? My fuck buddy can be a video game character?! Hot damn sign me up! #nsfw #PornAds #WhatIsThisIDontEven
1st March
just finished classes for the day

yup thats me
What?

…just…what the fuck is the animation on that boob. I have never seen a boob move like that. Ever. I mean. I know anime isn't known for it's realistic boob animation but just stop and look at that. 

I can't stop laughing.
3rd February
I love everything about this 
This is in responce to all of the pictures of  lady butts ixhaku posts.
10th December
oh, hello officer grayson

arrest me please

excuse me while I drool… 
27th August
Jason pressed down firmly on Dick's shoulder until the acrobat lowered himself to his knees. "That's good," Jay grinned, threading his fingers in the younger man's hair and pulling his head back roughly. "Now show me how good ya are with that mouth of yours."Jason was rougher than Bruce would ever dare to be, even when Dick had begged him for it. Bruce had always been careful, but Jason was merciless. He didn't care about what bruises he made, or if his bitemarks bled.
I forgive the typo. 

Porn in my ask is the best thing. 
1st August
Anonymous
favourite starfighter page/chapter/strip?
The Teahouse/Starfighter crossover.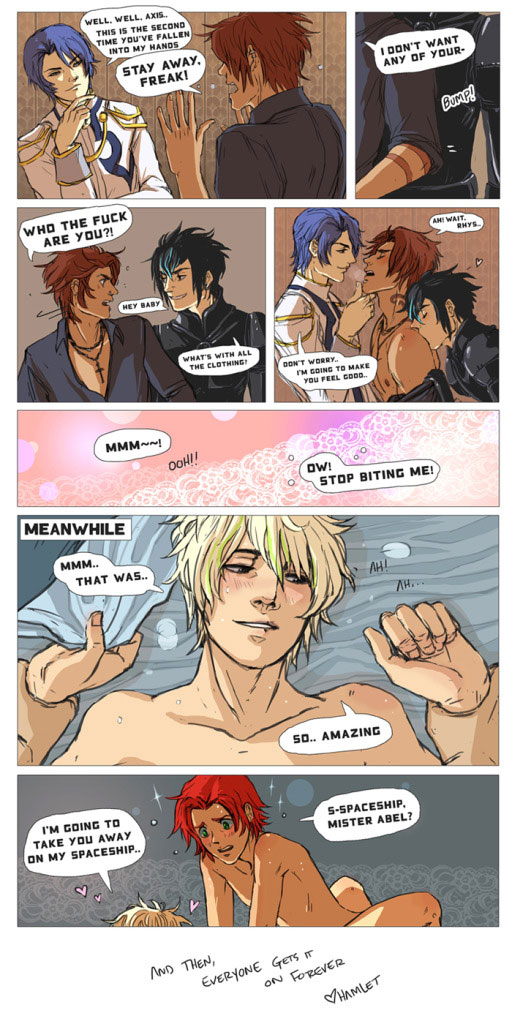 25th July
Alright, I'll give this a shot. You're honestly the best thing to come into my life, you know? I've always been relatively happy, but with you in the picture? God, just texts from you are enough to bring a stupid smile to my face. I've never really wanted to submit to anyone, but for you? I would. You would hold free reign to kiss me all over. I'd rub your back with warm massage oils, just until you were on the verge of sleep, and then I'd kiss a line down your back and sing a lullaby for you.
Okay, you definitely won that. Yup. Oh yeah. You won.